No picture from yesterday, I never left my nasty gym clothes.
Tornados in Brooklyn do not make for a happy subway system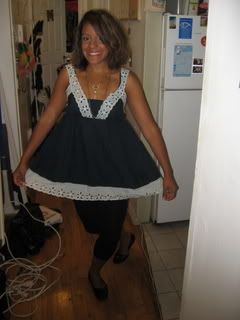 Today I took a shower and was inspired to look cute.
I changed my shoes after I took this picture cause these were pinching my baby toes...I will still give them a second chance 'cause I love them so...
Baby Doll Tunic- Free @ My swap
Leggings -$5 J&J on 34th stree
Panent leather flats-$2.50 @ Salvation Army
Owl Necklace & Gold chains from my grandma's jewelry box
DO NOT see IDOL: The musical - Yuck!