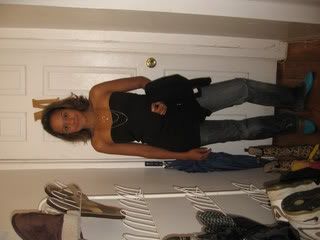 Salvation Army Day!
I was going to also go to the gym and take a trampoline class before work, thus the no makeup look.
I am also over the tube dress I am wearing - Even after losing all the weight months ago i still think i will be fine in a size medium - Not the case!
Black Tube Dress from a store called Danice-$2.99
Banana Republic Jeans-FREE @ my first swap!
Blue shoes-$3.99 Thrfited
The cardigan I am holding is from the Wherehouse sale.
My best finds? A Mark Jacobs button up shirt for $3 and a vintage leather coach bag for $5.
Today I couldn't help myself - I stopped in a Salvo by the train station and picked up a Vintage Doony and Burke Bag that I am in love with for $6 and a sequin dress that I drool over when on the hanger - but not sure where I will wear it. - We shall see