Today was my first community sale/stoop sale.
I did pretty okay. I made back the $20 I spent for the actual tabe and then some. It was nice to see some of the clothing that no longer fit me go to good homes.
I didn't do any shopping myself.
In fact the only thing I did pick up for myself today was on the way back from the post office on Myrtle ave, I found a hole in the wall thrift store where I found a massive stuffed Lion to add to my stuffed lion collection.
I Love it!
No matter who laughs at me!
Here are pics of my table at the sale: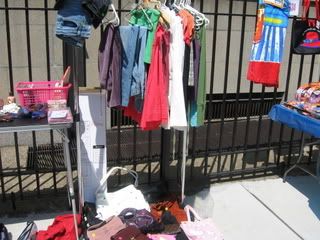 Here is a pic of my baby, that I purchased on ebay: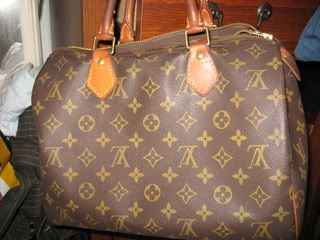 And here is the Marc Jacobs I picked up at Salvation Army on Wednesday:
Speaking of bags!
My wonderful swap friend Tracy informed me of a Bag/pocketbook swap next Saturday June 23rd (The day before my clothing swap!)
Here is the info:
http://foodcoop.com/files_events/6.23%20PocketbookBagPurseExchange.pdf
I would cut and paste but I hate PDF's and I have no patience.
Can someone stop me from trooping to Beacons Closet tomorrow in the hopes they will buy some of my cuter summer items? I swore I wouldn't go there until next month....oh well!